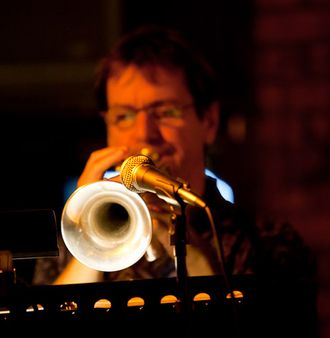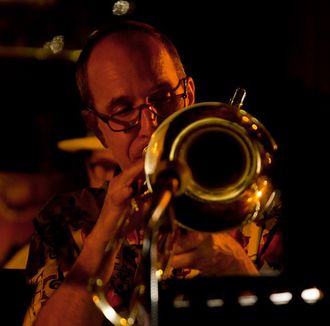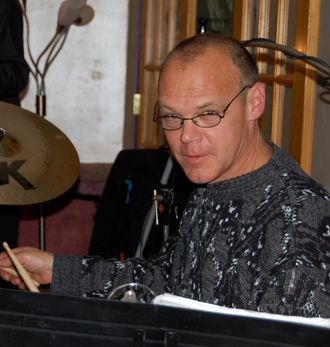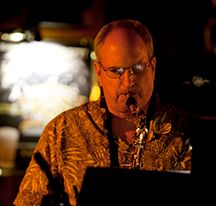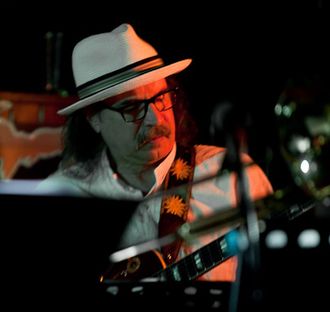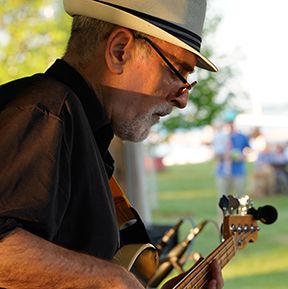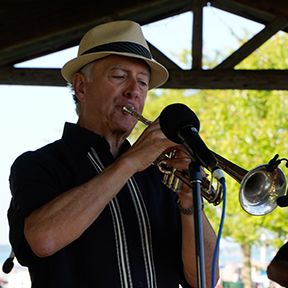 JazzNorth8 AKA The TundraTones is a little Big Band comprised of area professional musicians that play classic swing, Latin, funk, blues, ballads,  originals, and "danceable jazz".   Most of  the group met playing in the Northwestern Michigan College jazz band and began performing as a septet under the name of Jazz North in the winter of 2004-05. 
 
We have performed throughout Michigan at venues such as Milliken Auditorium, the TC Elks Club, Traverse City Country Club, Friday Night Live, WNMC radio "Jazz from the Tradition", InsideOut Gallery,  Traverse City Film Festival, Little Bohemia, Fountain Point Resort, The Homestead, The Old Art Building in Leland, the Grand Traverse Pavilions, and in concert at the Manitou Music Festival Dune Climb. The group has also provided music for dancing at wedding receptions from Grand Rapids to St. Ignace.
 
The Usual JazzNorth 7+1 suspects are:

Steve Carey......Arranger, Trombone, Vocals                                                                                                                                                                     Steve took up trumpet and choral  singing in  high school  downstate, enjoying classical  and jazz idioms.  During college he performed with choirs, an opera company, and instrumental ensembles.  Post college performing included playing trumpet in concert bands and jazz ensembles where he doubled on valve trombone.  Steve moved with his family to Traverse City where he works as sail maker.  Current musical projects include a rock/soul band affiliated with Pathfinders School; BoBossa, a jazz quartet; Irish morph music ensemble The Wild Sullies;  and Manitou Brass, an organization that performs exactly once per year. He has produced several arrangements for JazzNorth and plays valve trombone in the group.
 
Bill Fromm......Trumpet, Flugelhorn
From Pentwater, MI, Bill began playing trumpet in the school band programs.   Bill is a longtime member of the NMC Jazz Band.  He has also performed with other area bands, and has played many shows in the pit orchestra of the Old Town Playhouse.   
 
 Dave Goodwin ...... Percussion, Vocals 
In high school Dave was the drummer for the State of Michigan Award Winning Northville High School Jazz Ensemble, the Detroit Metropolitan Area Directors Adult Jazz Ensemble, as well as percussionist for the wind ensemble.  He studied marimba and timpani under Sal Rabio, Detroit Symphony Orchestra.  Dave did studio work in Detroit and toured with professional acts in the U.S. and Canada. He moved to the Los Angeles area and studied with Dick Wilson, Drum Technique Guru and Karen Ervin-Pershing, concert marimbist and composer. Dave is a teacher in the Traverse City public school system.
 
Jeff Kozisek......Alto & Tenor Saxophone
Jeff grew up in the Mississippi Delta, home to many of the great blues and jazz musicians.  Through his local school band programs, he developed a passion for big band jazz and swing music.  At college he was a member of the R.O.T.C. Band, the university symphonic band and jazz big band. Fulfilling his military obligation in music, Jeff was a member of the 434th Army Band stationed in Augusta, Georgia, and the 41st ARNG band in Jackson, Mississippi.  He co-founded the Sentimental Swing, a dance band that played in the Memphis area.  After a corporate move to Bowling Green, Kentucky, Jeff played in the Western Kentucky University Jazz Band and the Lost River Cave Big Band.  He is a member of the the NMC Concert Band.       
 
Angelo Meli......Guitarist     
Born in Detroit, Angelo attended Michigan State University and the Berklee College of Music in Boston.  His experience ranges from the folk club circuit in Detroit to rock n' roll in Boston to Latin bands and studio work in Florida.  In Michigan, Angelo has performed with back-up bands to the Drifters, the Coasters, the Platters, and the Marvelletes.  He is an active song writer and performs with the blues band, the Corvairs.  As the guitarist with the Neptune Quartet, Angelo was involved with the tune "The Great Thaw" commissioned by NMC as a fundraiser for the Waters Studies Institute.
 
Glenn Wolff......Bass       
Glenn began his musical education listening to the music of his parents Gene and Pat, who were both saxophonists in big bands in the 40s and 50s. For three decades he has juggled two careers: as a visual artist and musician. Both careers started in New York where he became a free lance illustrator for the New York Times and numerous other publishers, and a frequent musical collaborator with guitarist John Wunsch, and singer/songwriter John Kruth. Evenings often found him playing in Greenwich Village clubs. After returning to his native Northern Michigan he began performing as a bassist with Jeff Haas, Ron Getz, and Janice Keegan. He was the bassist in the Neptune Quartet, and also performs and records frequently with Robin Lee Berry, also the defacto guest vocalist for the band.
 
Bill Hershey..... Trumpet, Flugelhorn
Playing trumpet has been a big part of Bill's life since the 4th grade.  He formed and lead a big band while attending Princeton University, and continued playing  in big bands in Ann Arbor, Detroit, Washington DC, Frankfort-Germany, and Dayton OH.  Presently Bill is the lead trumpet for the NMC Jazz Lab Band,  He has also played in the pit orchestras for numerous musicals, starting with the Princeton Triangle Club in the late sixties, finding his talented wife to be Debbie, in a 1983 production of Company, and leading up to productions at the Old Town Playhouse for the past ten years.  A retired air traffic control systems engineer, Bill also spends time building sets for the Old Town Playhouse.